From 1st of December 1, 2015 till 29th of February, 2016 "Digital Country" Company together with the Foundation of Culture and Innovation FUTURA supported National program of digitization of unique manuscripts and editions "Future Pages", which was aimed towards the cooperation with the cultural institutions of Ukraine.
The program purpose was the cooperation with Ukrainian cultural institutions to obtain grants and get funds to digitize the unique editions which have cultural and historical value.
details
We invited to cooperation 300 institutions that deal with the preservation of historically and culturally significant documents and materials: libraries, museums, national cultural assets and archives.
During the period of the program, we have received 110 applications from 9 Ukrainian museums and libraries.
Together with the experts of the Committee of the archives protection and historians, we have established the order of priority of digitization – depending on the historical and cultural value and the level of damage caused by time.
The first grant from the Fund FUTURA is received by Bilhorod-Dnistrovskyi Museum of Local History.
Series of the original manuscripts of the XIX century regarding the history of German and Swiss colonies of south of Bessarabia (18 documents total of 900 pages) will be transported to Kiev and digitized by our experts till the end of April.
Another 3 applications were received by grant department of "Digital Country".
We hope that our experience in obtaining international grants will help in the near future to digitize materials that were filed by the following participants of the project:
Oles Honchar Kherson Regional Universal Scientific Library

Yaroslav Mudryi Scientific Library of the National Law University, Kharkiv

Oleh Olzhych Zhytomyr regional universal scientific library
Thanks to all of participants! We would like to highlight that the "Digital Country" Company is open to cooperation with cultural institutions and outside the project as well.
Let's preserve our history together!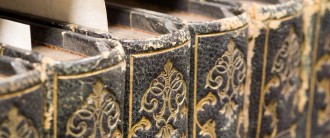 [collapse]