"Karpylivka Chronicles" were written in 1895 by the local priest Feofilakt Koshpanevych – one of the few survivors Church Parish descriptions that were created on the initiative of Volyn Church and Archaeological Society in the late 19th century (links to detailed chronicles and initiatives: https://goo.gl/EfAJ9a)
details
As the Chronicle is quite old and written form old Russian language (before reforms), "Karpylivka Chronicles" is only briefly demonstrated by reading only selected passages to the children in the schools.
Although it has great value to rural communities because it contains descriptions of the life and traditions of their ancestors contemporaries.
Therefore, Yaroslav Schevych, сontinuing the initiative "Karpilovka line" (//karpylivka.rv.ua), with help of the history teacher T. M. Stepanets, local school director V. V. Galushko and N. Y. Martynyuk, was able to deliver the manuscript to the Digital Country Company for the digitization. 
"Pleasantly surprised by the speed of work and its quality. 35 pages of the Chronicle were transferred to the digital format only in one hour! The value of the work was accessible and close to the cost of tickets to Kyiv. Now, thanks to the electronic format, the work on the manuscript will be faster. We plan to publish original manuscript online, translate it into Ukrainian and republish with support of the "Ukrainian Publishers and Booksellers promotion and popularization of historical research Support Program in Rivne" for using during the school lessons and distribution in museums "- says Yaroslav.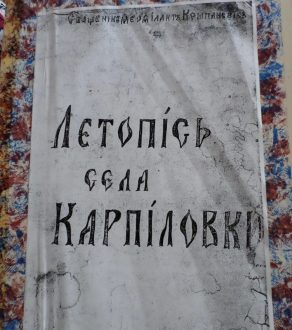 [collapse]