"Digital Country" completed a project to digitize materials from the funds of the Zabolotny State Scientific Library of Architecture and Construction.
An unique collection of the famous Russian architect and engineer Gavriil Baranovsky, consisting of eight books of A3 – "Architectural Encyclopedia of the XIX century" was converted into electronic form.
details
We used professional equipment planetary & book scanner Zeutschel. All pages of books were scanned with high resolution of 600dpi. The results of digitization is collection from e-books in PDF-format for use as a master copy and custom copies (200dpi).
There have been a significant number of digitized photographic material from A3 to A1 – the collection of portraits of famous architects, construction projects and reconstruction of residential buildings, factories, monuments, buildings of national importance.
All digitized materials will soon be available in electronic reading room of the library.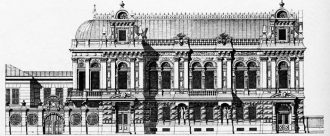 [collapse]